---
RECENT NEWS:
---
Recent Install in Tampa Florida, Florian Solar Enclosure
---
FLORIAN MADE THE COVER OF HOME POWER MAGAZINE FOR THE SECOND TIME IN 3 YEARS CLICK HERE TO READ THE FULL ARTICLE.
---
Location: South Hall at McCormick Place, Chicago, IL
Dates: October 21-24 2013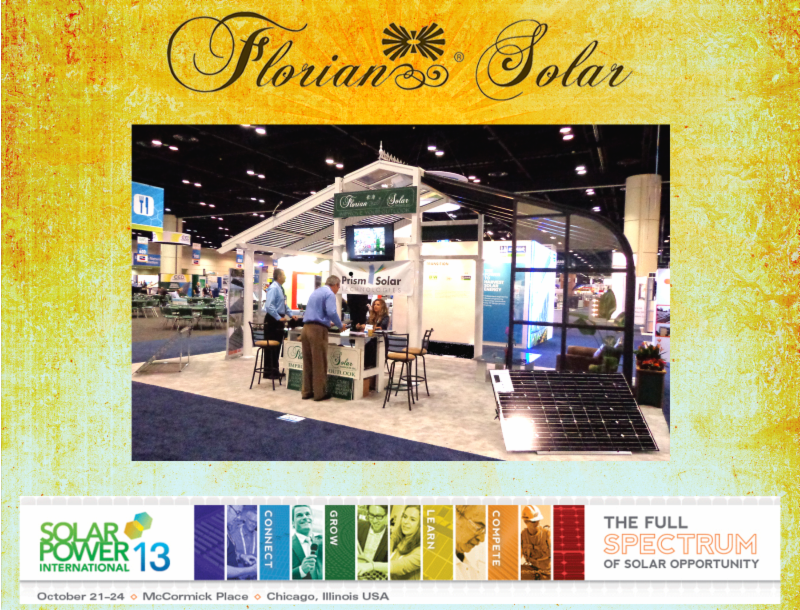 ---
Solar Power International (SPI) returns this October with a comprehensive agenda to guide you through the solar energy industry and related fields. This year's SPI promises to be an action-packed four days with nearly 20,000 solar energy experts, leaders and buyers.
We are incredibly excited about this year's SPI and continuing our partnership with Prism Solar Technologies. Prism provides Florian Solar customers with multiple bi-facial modules which will be featured at Prism's Booth # 1019. Stop by to see our full-sized display and talk to one of our experts about our prefabricated solar structures, solar greenhouses and the advantages of using our systems.
With more than 70 years of design, engineering and architectural experience in both residential and commercial settings, there is not much we haven't done. Our vast knowledge is at your disposal. We look forward to seeing you at the show, but in the meantime, call or email us today at (800)356-7426 or email us at info@floriansolar.com to schedule appointments.
---
This recent install was completed by Solar Power Sunrooms for a local home owner in Wilmington NC . There are 16 Insulated Prism Bifacial Panels for a 3.2 Kilowatt system.
---
IN DOWNTOWN FORT LAUDERDALE FLORIDA PNC BANK IS RAISING THE BAR
WITH A NET-ZERO ENERGY USAGE BANK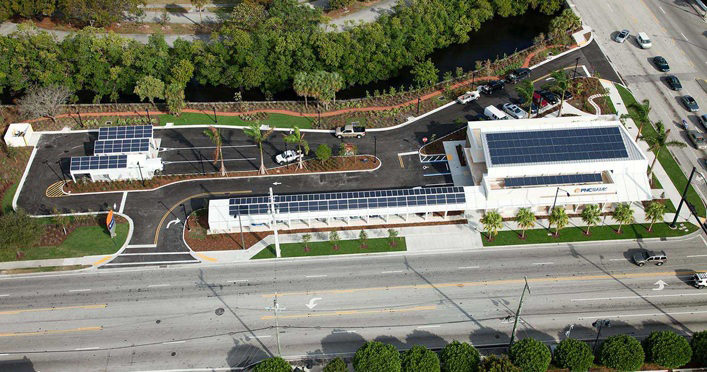 FLORIAN ADDS PNC BANK TO ITS LONG
Florian completed work on a branch of PNC Bank, which goes beyond Net-Zero energy usage to send power back to the local grid.

The 4,900-square-foot, LEED Platinum branch currently consumes an estimated 70,000 kilowatt hours of energy per year, compared to the roughly 84,000 kilowatt hours it produces. The 14,000-kilowatt-hour difference is equivalent to the energy it takes to power a 1,600-square-foot house for a year.

Green features of the bank include 211 solar panels, high-efficiency LED lighting, Energy Star appliances, and an energy recovery ventilation system which dramatically reduces heating and cooling costs. The landscaping, which includes only local plant species to minimize irrigation needs, and paving designed to reduce rainwater runoff, also features a fitness path which is open to the public.
---
FLORIAN AT SOLAR POWER INTERNATIONAL 2012 INTRODUCES A FULL LINE OF SOLAR STRUCTURES FOR INDOOR LIVING SPACE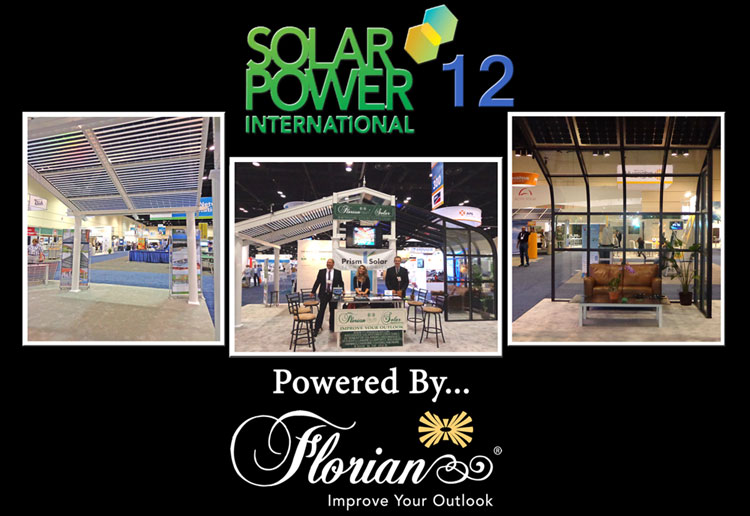 Florian was on display September 11th through the 14th of 2012, at the Orlando Convention Center in Orlando, FL. We launched a full line of new solar products including Solar Sunrooms , Solar Skylights, and Solar Growing Greenhouses . In addition we introduced an upgraded version of our current line of
Solar Canopies, Carports and other outdoor solar structures.
---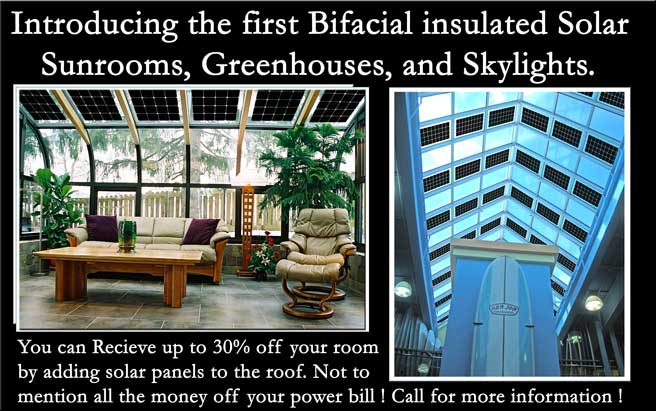 ---
BRADY PARK, TULSA OK
Solar Canopy installed by elemental solutions a full service Florian system installer. This is a unique install at Brady Park in Tulsa, OK and is open to the public. This system includes 192 Bifacial PV Modules or a 48kw system. Contact Elemental Solutions for installation of any of our product lines
(706)255-6238 or email them today at elementalsol@me.com
---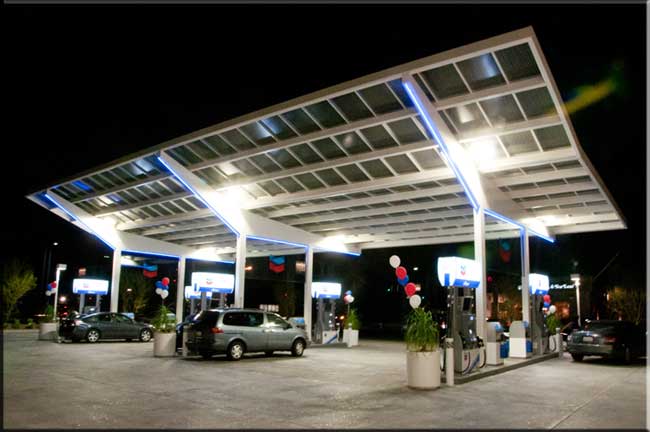 LOS ANGELES, CA (April 27, 2012) –Florian Solar announces United Oil Company has selected its unique solar canopy to help provide power to the store and its pumps for their new "Rapid 84" gas station in Cerritos, California. 49.1-kilowatt solar system (44.1-kilowatts AC) that will provide the station with an estimated 72,663-kilowatt hours per year. The solar canopy is expected to provide about 75% of the station's annual energy needs.
---
Click photo's to enlarge
Florian was proud to be apart of this award winning project in Newburg, OR. The American Institute of Architects Portland recently awarded Portland Community College Newberg Academic Center, Newberg with a sustainability design award for 2011.
---
This recent install located in Chattanooga , TN was completed by Sustainable future for Market 212 Restaurant located in downtown Chattanooga .
Click here for more information
---
Solar-Powered Electric Vehicle Charging Station
Product Debut In Portland, OR ,July 30, 2010.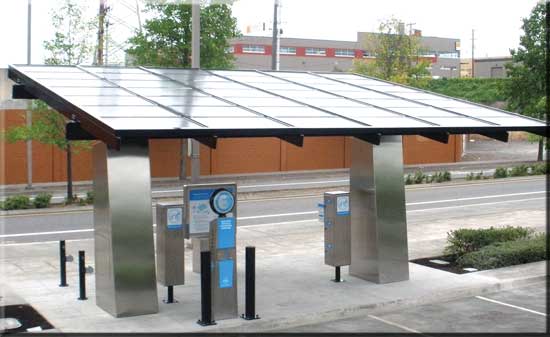 With electric vehicles on the verge of filling our streets, Florian Solar, in collaboration with Sanyo North America, Portland General Electric, the Oregon Museum of Science and Industry and In Spec Group's Energy Solutions division has completed an uniquely innovative application for electric transportation. This is the first of many such systems already in production by Florian.
Project By
Florian Solar & Sanyo Energy
42 Sanyo Bifacial Panels for a 8.2 Kilowatt system Designed for Oregon Museum of Science and Industry (OMSI) for use as a charging station.
---
---
(800)FLORIAN (356-7426) - CLICK HERE FOR CONTACT INFO