A NEW KIND OF GAS STATION
BUILT FOR UNITED OIL BY PERMACITY & FLORIAN SOLAR PRODUCTS.
Solar canopy to provide approximately 75% of new "Rapid 84" station's energy needs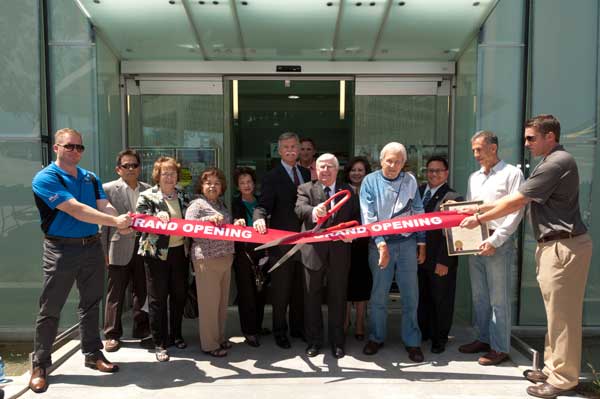 LOS ANGELES, CA (April 27, 2012) –Florian Solar announces United Oil Company has selected its unique solar canopy to help provide power to the store and its pumps for their new "Rapid 84" gas station in Cerritos, California. The new solar canopy, designed by architect Kevin Oreck, in conjunction with multiple designers at Florian Solar, is made up of 252 Panasonic HIT Double® solar panels in an approximately 49.1-kilowatt solar system (44.1-kilowatts AC) that will provide the station with an estimated 72,663-kilowatt hours per year. The solar canopy is expected to provide about 75% of the station's annual energy needs.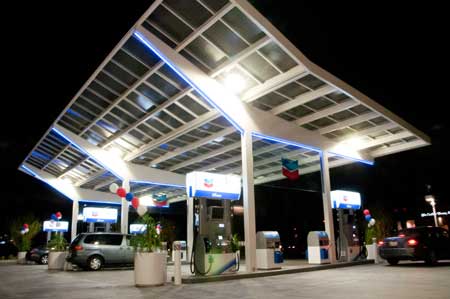 The Florian system boasts internal wire chases, EPDM glazing gaskets and baked on enamel finishes. These features set it apart from the solar industries standard canopies designs. The canopy will offer protection to customers on rainy days, thanks to a Florian-designed waterproof structure, and will generate energy when the sun is shining. Florian once again provided a solar building design for architects to use for a finished & clean look that rivals all modern solar installations.
Atlas Solar Products a major solar distribution firm and Permacity a module provider and installation company worked in conjunction for the panel layout and install. "This was truly a great accomplishment by all parties. What a fantastic solar project," said Alex Nicholas VP of sales at Atlas Solar who was on hand for the ribbon cutting ceremony.
United Oil is a small family-owned company that operates over 125 retail stations in southern California, and is also an authorized distributor of fuels for Shell, ConocoPhillips (76) and Valero. The company emphasizes first class retail facilities with the aim to provide customers with a pleasant buying experience and not just another visit to the gas station.
Hats off to this United Oil gas station hopefully it will lead the way to creating a new trend within their industry.
Photo's by Mayur Shah of Miracle photo Website: www.miraclephoto.com
Distributor of Florian System:
Atlas Solar Products
Telephone: (843)240-2146
Solar Module Provider and Installation by:
Permacity
(866)-9-solar-9