RECENT NEWS:
---
IN DOWNTOWN FORT LAUDERDALE FLORIDA PNC BANK IS RAISING THE BAR
WITH A NET-ZERO ENERGY USAGE BANK
Florian completed work on a branch of PNC Bank, which goes beyond Net-Zero energy usage to send power back to the local grid.

The 4,900-square-foot, LEED Platinum branch currently consumes an estimated 70,000 kilowatt hours of energy per year, compared to the roughly 84,000 kilowatt hours it produces. The 14,000-kilowatt-hour difference is equivalent to the energy it takes to power a 1,600-square-foot house for a year.

Green features of the bank include 211 solar panels, high-efficiency LED lighting, Energy Star appliances, and an energy recovery ventilation system which dramatically reduces heating and cooling costs. The landscaping, which includes only local plant species to minimize irrigation needs, and paving designed to reduce rainwater runoff, also features a fitness path which is open to the public.
---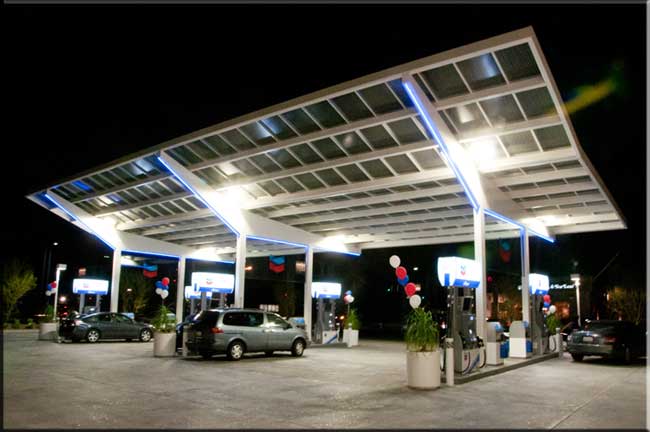 LOS ANGELES, CA (April 27, 2012) –Florian Solar announces United Oil Company has selected its unique solar canopy to help provide power to the store and its pumps for their new "Rapid 84" gas station in Cerritos, California. 49.1-kilowatt solar system (44.1-kilowatts AC) that will provide the station with an estimated 72,663-kilowatt hours per year. The solar canopy is expected to provide about 75% of the station's annual energy needs.
---
BRADY PARK, TULSA OK
Solar Canopy installed by elemental solutions a full service Florian system installer. This is a unique install at Brady Park in Tulsa, OK and is open to the public. This system includes 192 Bifacial PV Modules or a 48kw system. Contact Elemental Solutions for installation of any of our product lines
(706)255-6238 or email them today at elementalsol@me.com
---
FLORIAN AT SOLAR POWER INTERNATIONAL 2011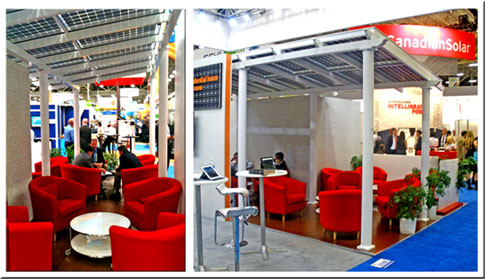 Florian was on display October 18th through the 20th of 2011, at the Dallas Convention Center in Dallas , Texas . SANYO North America Corporation was nice enough to invite Florian back for a third time to showcase their HIT® Double bifacial solar panel at Solar Power International 2011.
---
Click photo's to enlarge
Florian was proud to be apart of this award winning project in Newburg, OR. The American Institute of Architects Portland recently awarded Portland Community College Newberg Academic Center, Newberg with a sustainability design award for 2011.
---
Dine Under a Solar Roof
This recent install located in Chattanooga , TN was completed by Sustainable future for Market 212 Restaurant located in downtown Chattanooga .
Click here for more information
---
Florian in this months issue of Home Power Magazine
click here to read this great artcle.
---
Come see us & our representatives in person at one of these listed events
*CINCINNATI, OHIO*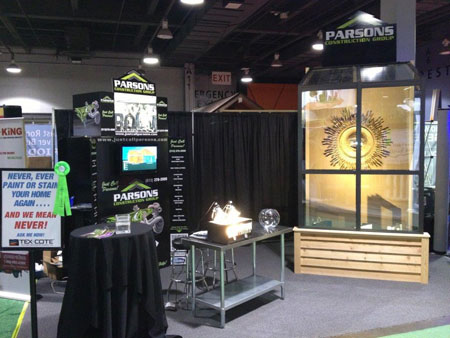 If you missed us at the Cincinnati Home & Garden show than we have great news! Parsons Construction Group will be on display March 22nd through the 24th 2013.
Currently offering all of Florian's product lines.
The Dayton Spring Home & Garden Show 2013 at the Dayton Convention Center.
If you know what day you would like to attend please email those dates and we will happily pick up your passes.
Website:
http://hsishows.com/wp/daytonhomeandgardenshow/
Parsons Construction Group
4457 Bethany Road
Bldg E, Suite 100 Mason OH, 45040
Email: Bill@Parsonsconstructiongroup.com
O-513-492-8657 F-513 492-7317
---
*TORONTO, CANADA*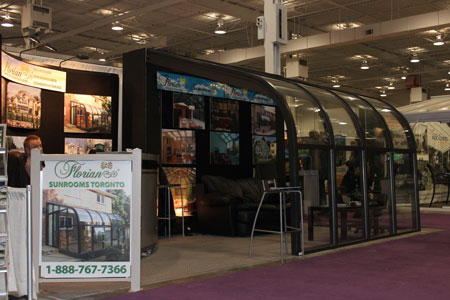 Look for Florian Sunrooms of Toronto March 15th through the 24th 2013. The National Home Show at the Direct Energy Centre Exhibition Place, Toronto.
Currently offering all of Florian's products lines. With a Full room display on site!
Website: http://www.nationalhomeshow.com/
Please call for more show information
Florian Sunrooms Toronto Inc.
20 Venture Drive Unit#17
Scarborough , ON . M1B 3R7
Tele: (416) 208-9859
Fax: (416) 208-6067
Toll Free: 1-888-767- 7366
Online Information:
E-mail: floriansunroomstoronto@bellnet.ca
Website: www.floriansunroomstoronto.com
Show Dates:
---
August 5-7, 2011 Summer Home & Garden Show/ University of Phoenix Stadium
Booth 333
For Additional show information contact Carlson Solar Technologies
Website: http://www.carlsonsolartech.com
---
How College's are Setting the Example of Energy Efficiency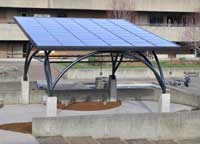 Click here to Read about Florian's Solar Install at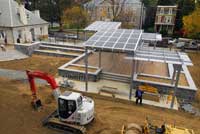 Click here to Read about Florian's Solar Install at
---
Florian at Solar Power International 2010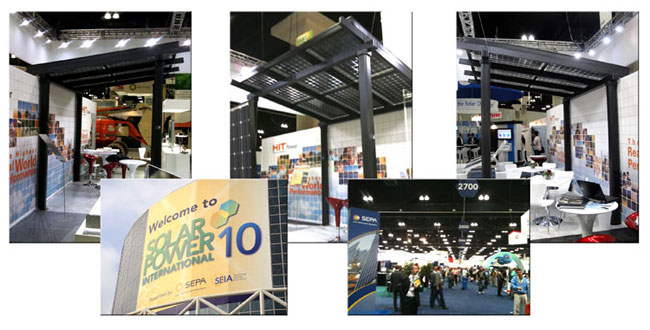 If you were lucky enough to come by and see our display this year it was a magnificent sight two see. The structure was designed to present a broader and more commercial appeal for our clienteles. It was bronze finished using traditional style columns and end caps and it held 6 Sanyo Bifacial solar panels. This style is perfect for light commercial applications that have been so very popular in the solar industry. This was easily our best display and show to date. Read full article here
---
Solar-Powered Electric Vehicle Charging Station
Product Debut In Portland, OR ,July 30, 2010.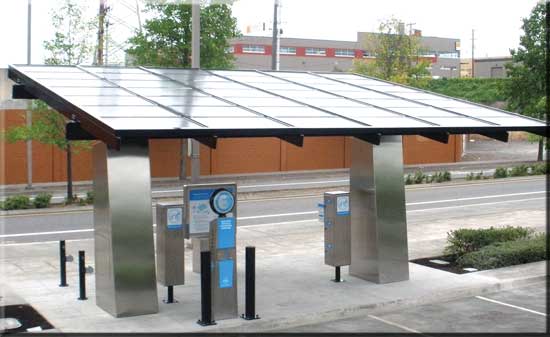 With electric vehicles on the verge of filling our streets, Florian Solar, in collaboration with Sanyo North America, Portland General Electric, the Oregon Museum of Science and Industry and In Spec Group's Energy Solutions division has completed an uniquely innovative application for electric transportation. This is the first of many such systems already in production by Florian.
Project By
Florian Solar & Sanyo Energy
42 Sanyo Bifacial Panels for a 8.2 Kilowatt system Designed for Oregon Museum of Science and Industry (OMSI) for use as a charging station.
---
FLORIAN TO HELP KICK OFF AMERICAS FIRST
TD Bank & Florian Solar Design Center are making great strides in the solar community launching America's first carbon neutral bank chain. At a press conference held in Farmingdale, N.Y., on February.18, 2010, executives have announced that TD Bank is carbon neutral. They unveiled plans for the green design of new stores, which will include state-of-the-art technology to reduce energy consumption by 50%. To achieve this TD Bank teamed up with Florian to design a solar drive-thru canopy system: a translucent canopy sheltering drive-thru areas that produces electricity for the bank's use.

TD Bank has built greener buildings with lower energy consumption and invested heavily in renewable energy. TD Bank has also pledged to develop LEED (Leadership in Energy and Environmental Design) certified stores throughout the nation.

TD Bank came to Florian looking for a cost effective, attractive looking modern solar alternative. Florian designed multiple drive-thru solar systems to suite each banks individual size, style, and energy needs. All of these are designed to hold Sanyo's unique bifacial HIT double photovotaic modules. This innovative product line is being added to TD Banks around the country and with numerous systems already completed. Florian is proud to help TD Bank become as green as it's logo.

Featured in the above picture is TD Bank's new 3,800 sq ft first green LEED certified prototype store located at 214-32 Jamaica Avenues Queens Village, N.Y. This store features two Florian Solar systems. One over the entrance in a trellis design and the other over the three lane drive-thru housing 72 Sanyo HIT bifacial photovoltaic modules. Read full article here
Solar product line debut San Deigo, CA
at Solar Power International 2008.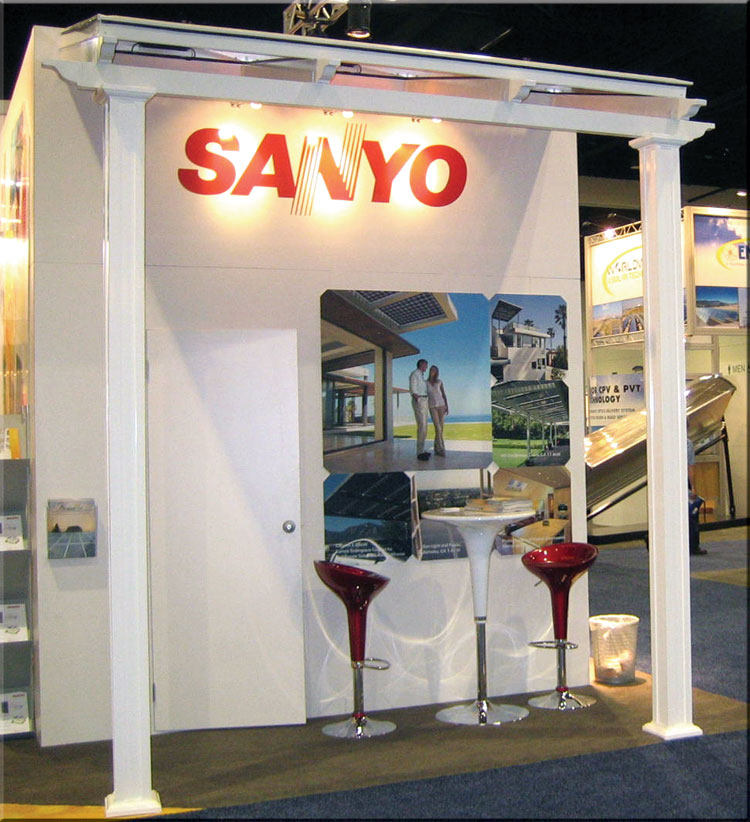 FLORIAN is proud to announce its partnership with SANYO, one of
the leaders in the solar industry. FLORIAN & SANYO offer a wide
range of refreshing architectural possibilities including awnings,
canopies, carports, trellises and more. The HIT® Double solar
module is the most efficient photovoltaic panel in the solar industry
when combined with a Florian structure since it utilizes the panels
under side to receive the proper sunlight to work at
maximum capacity.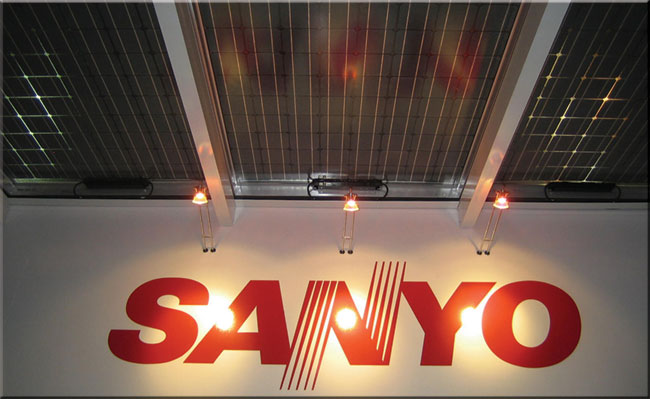 FLORIAN designed, built & installed the above display, which was
showcased on the SANYO booth at Solar Power International 2008 in
San Diego. The display had 3 SANYO HIT® Bifacial Solar Panels
installed (see underside on left). Our sleek residential design stole the
show as well as provided a great example of what solar should be.
We are excited to lead the industry toward structural solar living design.