PNC BANK = NET ZERO
IN DOWNTOWN FORT LAUDERDALE FLORIDA PNC BANK IS RAISING THE BAR
WITH A NET-ZERO ENERGY USAGE BANK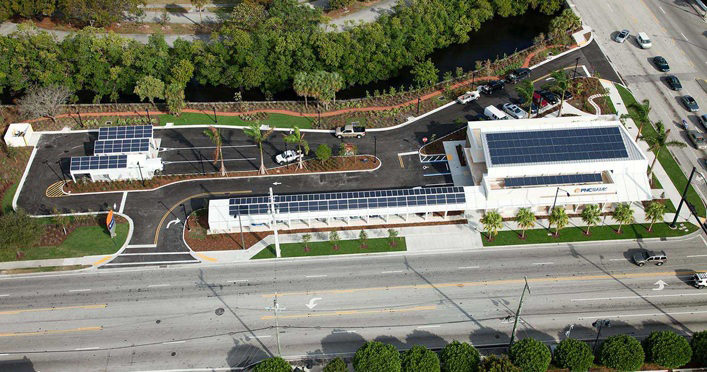 ---
FLORIAN ADDS PNC BANK TO ITS LONG
LIST OF COMPLETED SOLAR BANKS
---
PNC Bank is opening its first branch that can produce more energy than it uses, and you can see the difference as soon as you park under a canopy made from solar panels.
PNC bank choose Florian since we are the only solar canopy company with an internal wire management system (no exposed wires), internal gutters to weep out water & moisture, Lego style easy snap together design (no screws used to hold the panels in), a baked on enamel coating, weather tight design, and numerous other features not offered by our competitors. Looks and functionality are important that's what PNC bank needed, not a steel I-beam with panels bolted on top that does not keep out the elements as used in most carport applications.
Walk into the new Fort Lauderdale branch at Davie Boulevard and Andrews Avenue and the building is full of natural light. A computer screen on the wall can quickly tell you how much electricity the branch's 211- solar panels are making and how much the building is using. Any excess energy is returned to Florida Power & Light's grid.
On a different screen, you can learn about the branch's "green" features: energy-efficient lighting, sensors that turn off lights when no one is around, carpets made mostly from recycled fibers, water-saving faucets, native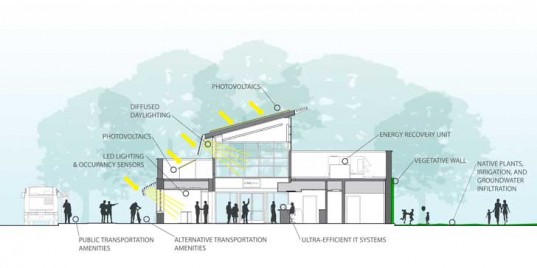 plants that need less water, plus porous pavement in the parking lot that filters water into the ground instead of sending the storm surge into municipal drainage systems.
On Monday, Pittsburgh-based PNC plans to open the branch, its only locale to date built to be "net-positive," meaning it makes more energy than it uses.
The building is designed to consume 50 percent less electricity than a typical branch, said Gary Saulson, PNC's director of corporate real estate and a pioneer in eco-construction in banking.
"This will be our model for 12 other branches we're building," said Saulson during a tour Thursday.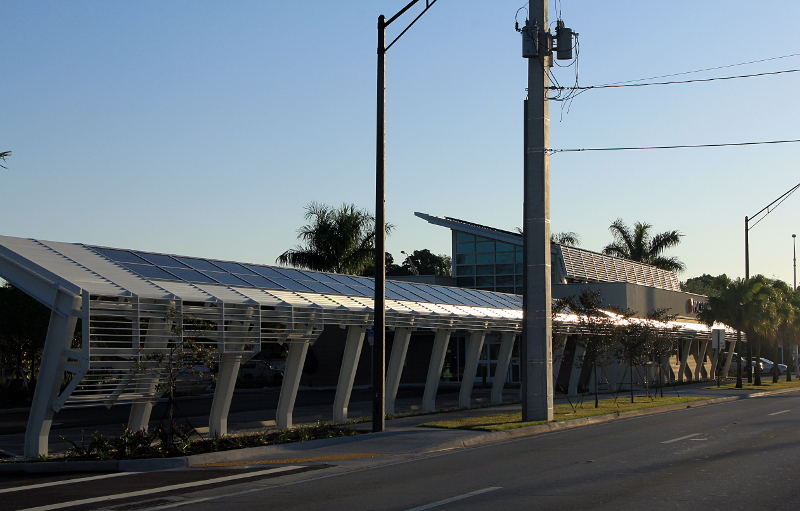 For Fort Lauderdale, the PNC locale is the second bank office built to be built at least "net-zero," or able to supply all the energy it uses.
TD Bank, the US arm of Canada's Toronto Dominion, opened the country's first "net-zero" bank in in 2011 at 665 NW 62nd St. in the Cypress Creek area — compete with 400 solar panels.
Both PNC and TD are among banks a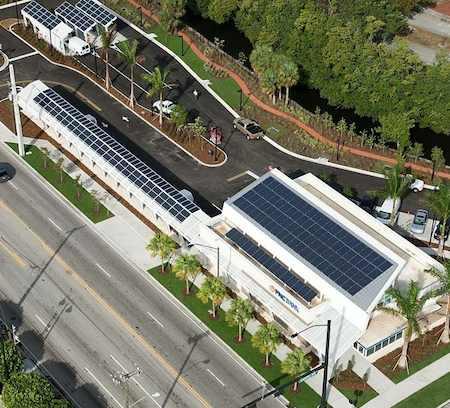 iming to stand out from rivals as "green" — operating in eco-friendly ways and appealing to the growing number of customers who care about the environment. Recent studies show those consumers include younger generations, baby boomers and women — groups with strong financial clout.
As part of its eco-push, PNC said it now has more new branches (119) than any other bank that are certified by the U.S. Green Building Council in Leadership in Energy and Environmental Design standards.
A recent study by University of Notre Dame management professors found that PNC's LEED branches had more accounts and higher balances on average than PNC's branches that were not LEED certified. Even adjusting for consumer wealth and other variables, the LEED-branches had higher sales per employee than other branches. And the LEED offices cost less to operate, said the study by professors Edward Conlon and Ante Glavas.
PNC has been aggressively expanding in Florida since 2008, largely through acquisitions.
In 2011, it bought RBC, the U.S. unit of Royal Bank of Canada, adding more than 400 branches in six southern states, including more than 80 units in Florida. It also bought the Tampa operations of Fort Lauderdale-based BankAtlantic for $350 million, taking over 19 branches and two related offices before BB&T bought the rest of BankAtlantic last year.
Today, PNC has more than 200 branches in Florida, with more than 80 in Miami-Dade, Broward and Palm Beach counties, said Mike Walters, regional manager for South Florida. It aims to expand to more than 30 offices in Broward by the end of this year, including the "net-positive" branch in Fort Lauderdale.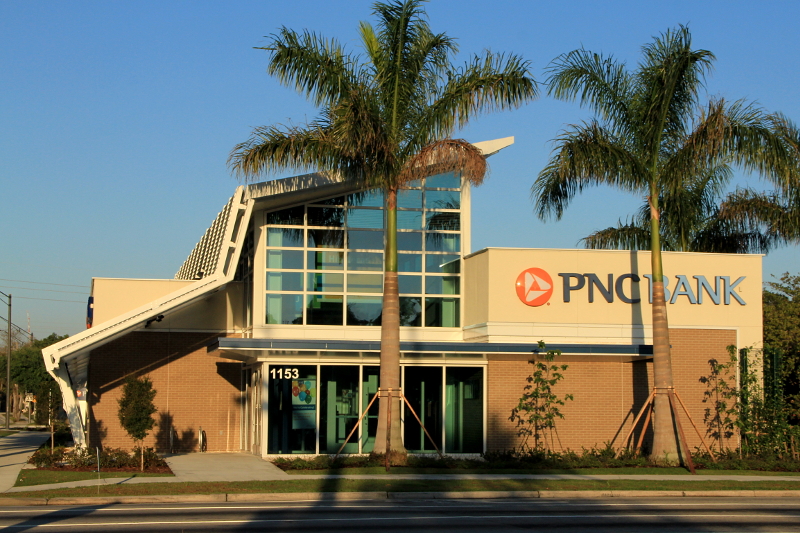 PNC's branch built to make more energy than it uses
Location: 1153 S. Andrews Drive on the corner of Davie Boulevard in Fort Lauderdale.
Some Eco-friendly features: 211 solar panels; sensors that dim lights when natural sunlight increases and shut off lights when no one is around; cool air exiting the branch is used to cool fresh air entering the branch; paints without harmful chemicals; carpets, cabinets and other building products made from recycled or sustainably-harvested materials; water-conserving toilets and faucets; local plants that require less water, among others.
For more on this visit: http://www.bizjournals.com/southflorida/blog/2013/01/pnc-opens-eco-friendly-bank-aims-for.html