Solar-Powered Electric Vehicle Charging Station
Product Debut In Portland, OR ,July 30, 2010.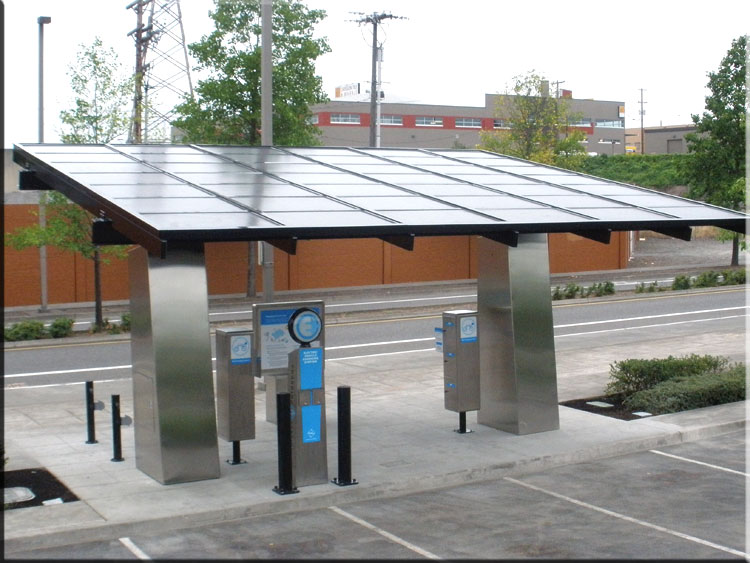 With electric vehicles on the verge of filling our streets, Florian Solar, in collaboration with Sanyo North America, Portland General Electric, the Oregon Museum of Science and Industry and In Spec Group's Energy Solutions division has completed an uniquely innovative application for electric transportation. This is the first of many such systems already in production by Florian.
This 8.2KW solar canopy is capable of producing up to 10,000 kWh per year, which is expected to meet the electrical demand for public charging on site.
The charging equipment includes the following:
(1) 120/208V EV Charger
(4) Bicycle parking bollards with 120V outlets
(6) Coin-operated lockers with 120V outlets. All of the charging outlets are available for free public use.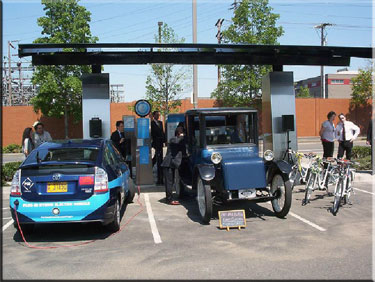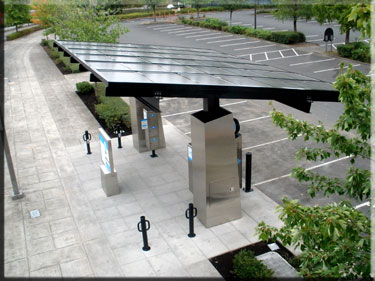 System specifications:
Solar panels: (42) SANYO HIT-Double 195-watt, bifacial module total capacity: 8.19 kW
Inverters:(2) PV Powered 4600-watt PV inverter total capacity: 8.19 kW
Electric Vehicle Charger:(1) Shorepower Dual Level 1/2 Pedestal
Charging StationCapacity: (2) Level 1 (120V) outlets and (1) Level 2 (208/ 240V) plug
System Statistics: Anticipated Annual Production: 9,000 –10,000 kWh Total installation timeline: 3 weeks