FLORIAN® & SANYO® Exhibits Solar Canopy & Double Solar Panels at The New American Home® 2009 Booth display at the 2009 International Builders' Show® in Las Vegas Convention Center
January 20, 2009
Georgetown, SC – January 20, 2009 – Florian Solar Products L.L.C. & SANYO Energy (U.S.A.) Corporation, a subsidiary of SANYO Electric Co., Ltd. (SANYO), will display at The New American Home® 2009, while participating in the 2009 International Builders' Show® (IBS), from January 20 - 23, 2009 at the Las Vegas Convention Center, Florian will be displaying it's new line of solar structures using the Sanyo advanced HIT®* Double solar panels.
FLORIAN has donated the solar canopy structures and SANYO has donated 56 HIT Double bifacial solar panels to be integrated in Florian's canopy for The New American Home®, which serves as the official showcase house of the IBS. Through Florian's innovative use of Sanyo's hybrid-type HIT® solar cell this homes photovoltaic technology in the HIT Double- a bifacial panel capable of producing power from both sides, reaches full potential. Florian & Sanyo's partnership have raised the bar in aesthetics and performance characteristics for residential and commercial solar customers. Florian's & Sanyo's panels offer a wide range of refreshing architectural possibilities including awnings, canopies, carports, trellises and more. The HIT® Double solar modules are the most efficient solar products in the industry when combined with a Florian structure since it utilizes the panels under side to receive the proper sunlight to work at maximum capacity.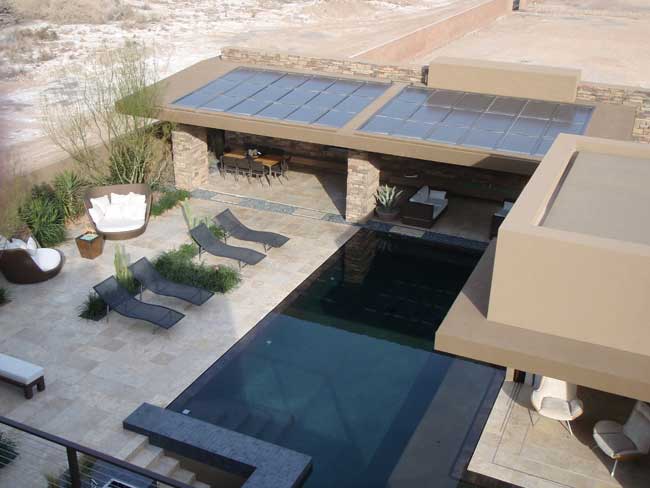 Click here to See more Solar Canopy Photos.
Click here to See Video of the New America Home 2009
The International Builders show 2009
IBS, as the largest annual light construction show in the world, serves as the National Association of Home Builders' annual convention and exposition, drawing more than 100,000 attendees. The show introduces many new products, materials and construction techniques that later might become the industry standard. The model home for 2009 is a net-zero energy home, educational tool and product showcase that includes FLORIAN'S solar canopy & SANYO photovoltaic modules, an insulated concrete wall system, and a revolutionary gas-powered mechanical HVAC system. FLORIAN is proud to be a sponsor of the New American Home® 2009. Photo examples of the HIT® Double installations can be viewed online at: http://www.buildersshow.com/generic.aspx?sectionID=1586
Florian's solar structures:
*Pre Fabricated, Pre Designed, Pre Engineered, Pre Cut and Pre Drilled.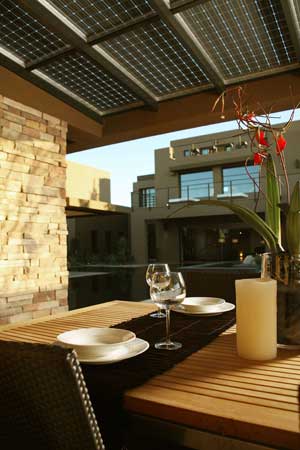 *Looks are everything- Unlike the bulky racking system that gives a temporary "science-project" look, Florian can achieve a finished look, dramatically increasing curb appeal. Our racking system provides a white or bronze skylight-looking frame, complimenting your home or business.
*Weather tight design- keeping the elements out.
*Pre-manufactured kit- includes detailed assembly instructions and a technical support number.
*Also available- a network of independently owned installation contractors in the continental USA .
*Technical & design support- take advantage of our 70 years of design experience
*Standard colors- bronze & white baked on enamel.
*Internal Wire Chase- Allowing the PV panel wires to run throughout an internal grid. Which not only creates a clean look on the outside, but also protects the wires from the elements by encasing them inside the aluminum structure.
Sanyo's HIT® bifacial panel
*HIT® stands for Heterojunction with Intrinsic Thin-layer. HIT® solar cells developed by SANYO are hybrid solar cells composed of single crystalline silicon wafer surrounded by ultra-thin amorphous silicon layers.
More on The New America Home 2009
Cutting-edge energy efficiency and stunning contemporary design are the keywords for the 2009 edition of The New American Home®, America 's premier show home and construction technology laboratory. The New American Home offers real-world demonstrations of the latest concepts in architecture, construction techniques, new products and lifestyle trends.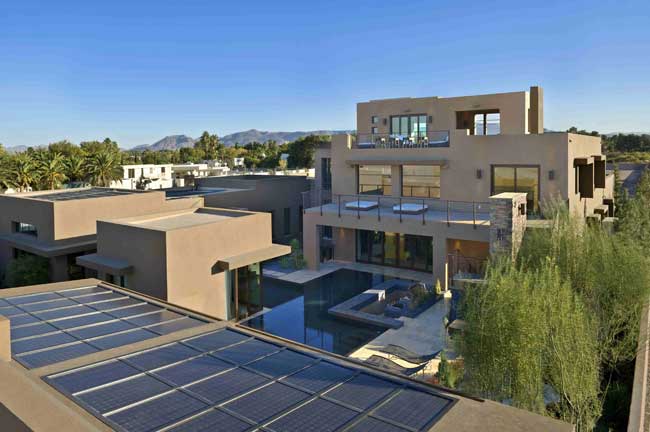 Las Vegas builder Blue Heron and architect Danielian Associates collaborated with interior designer Robb & Stucky Interiors to create a home that is elegant, functional, and efficient, and green - the home scored at the gold level under the NAHB National Green Building Program.
"The New American Home has been a leader in green building for years, but this latest edition is built to be the most energy-efficient home in the history of this series," said Bill Nolan, chairman of The New American Home Task Force. "Builders, architects, engineers - anybody with an interest in housing construction will be fascinated by the natural gas-powered heating and cooling system, the photovoltaic cells and the solar water heating. Even the insulation in this home is exciting.
"The whole package of energy-efficiency products work together to make this a near-zero-energy home," said Nolan, who runs The Nolan Group, a housing industry consulting firm in Altamonte Springs , Fla.
Tremendous effort has gone into the details of this home, including design aspects related to:
- Site development;
- Resource, energy and water efficiency;
- Indoor air quality; and
- Operation, maintenance, and homeowner education.
The New American Home was sited to optimize solar resources and incorporates landscape design that helps limit water and energy demand. The development avoided environmentally sensitive areas. Soil erosion and disturbance was kept to a minimum with storm water pollution prevention plans and continued on-site monitoring and implementation of best management practices.
To minimize the quantity of materials used and reduce waste, the builder employed advanced framing techniques including pre-manufactured trusses and floor systems, and used building materials that don't require additional on-site finish resources. Manufacturers and suppliers were selected that could provide recycled building materials, or new materials manufactured from renewable resources or requiring fewer resources to produce than traditional products. During construction, a recycling and waste management program included on-site bins for collecting and sorting materials to be recycled off-site.
The New American Home benefits from a comprehensive design approach to achieve extraordinary energy efficiency. A proprietary gas-powered heating and cooling system with a SEER rating of 18 combined with other energy-efficient features such as low-E windows, advanced insulation, vertical and horizontal solar overhangs and window louvers enabled the home to achieve a Five Star-Plus HERS rating of 57. This is before factoring the installation of a 12,000+ khz solar panel system striving for a net-zero level of electrical consumption.
Insulated concrete forms (ICF) were used predominately for the basement and structural walls which provide exceptional insulating properties with R-values up to 50.
"The design concepts, construction techniques and materials used in The New American Home 2009 can be adopted for use in any home," Nolan said. "In a sense, this showcase home is a collection of ideas for the industry to take away and put into any new or remodeled home."
"From the architects who designed the home to the skilled tradesmen who completed the final details, everyone involved welcomed the challenge of producing the home," said Blue Heron principal Tyler Jones. "The end result was worth the effort. I think this house is going to absolutely blow people away."
Sponsored by the National Council of the Housing Industry (NCHI) - The Leading Suppliers of NAHB and Builder magazine, The New American Home is one of NAHB's most successful and visible programs. NCHI is made up of the leading product suppliers of the residential construction industry, and the show home provides an excellent way for NCHI members to highlight their products.
The National Association of Home Builders (NAHB) would like to thank the following suppliers for their product and service contributions to the 2009 New American Home:
National Council of the Housing Industry – The Leading Suppliers of NAHB